Funeral Part 2
Fresh mounts were needed at regular intervals & progress was unlikely to have been more than 15 miles per day (& many fewer if the weather was bad) . The 100 mile journey must have been particularly demanding for all concerned.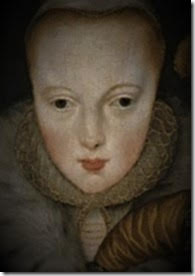 In death Lady Katherine was to assume the style & titles of a Tudor princess (reading out the deceased's titles was one of a herald's solemn duties) & the herald & poursivants were charged with organising the layout of the church and arranging the display of Lady Katherine's heraldic achievements (including the Royal Arms).
Before the altar a 'Hearse' was constructed for the coffin to rest upon - this being a raised platform covered in 'precious cloth'. Above the hearse was placed a canopy & contained within the surrounding barrier there was seating for the mourners who would be keeping vigil. Katherine's servants stood guard throughout the period of the lying-in-state.
As was customary with royal burials, Lady Katherine's body was embalmed. As part of the process the internal organs were removed & buried separately. The heart was believed to be the source of the body's vital power & the intestines the seat of emotion & both were accorded particular respect.
Lady Katherine's body lay in state until the day of her funeral on 21st February.
The service itself must have been an almost surreal event with so many important people crammed into this modest village church. The Queen was represented by the Chief Mourner, a senior noblewoman, who processed in state, her long black train held by one of her attendants.

Cockfield Hall had its own family chapel at the east end of the north aisle (where, before the Reformation, masses for the dead would have been said) & it was here, in the Cockfield Chapel, that Lady Katherine's body was finally laid to rest.