Funeral Part 3
Nothing now remains of Lady Katherine's tomb but the wide Tudor window which was introduced into the south wall was very likely part of the re-ordering.
In 1621 the Earl of Hertford died & to mark his passing a new family tomb of monumental proportions was erected in Salisbury Cathedral. The earl had recovered both wealth & position so it was decided that Lady Katherine's body should be brought from Yoxford to join her husband's in this splendid new tomb. In the image below you can see Lady Katherine's effigy is raised above that of her husband as indication of her royal blood.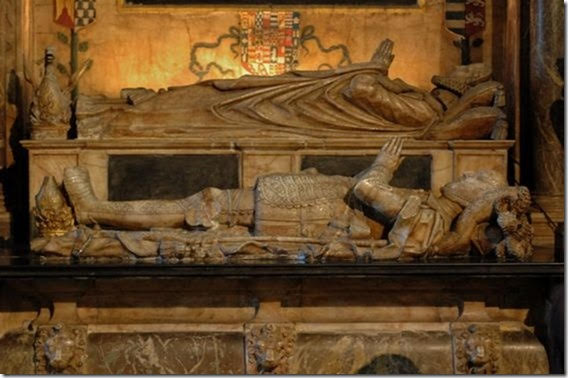 Yoxford did not forget its Royal connection & for many years the church still displayed many of the heraldic devices remaining from Lady Katherine's funeral.
There was also the matter of Lady Katherine's viscera for shortly after her body had left St.Peter's the antiquarian Robert Reyce (1555-1638) wrote in 'The Breviary of Suffolk' ; " There lie buried in the Church and Chancel at Yoxford the bowels of ye Lady Katherine, wife of Edward Seimour Earl of Hartford".
In the Victorian period & then again in the 1920s, after the Great War, St.Peter's underwent extensive alterations. Much that was ancient was removed (the floor was entirely relaid) & there appeared to be scant regard for the church's earlier history. Thus nothing survives of Lady Katherine's burial place but Robert Reyce's record would indicate that somewhere beneath the chancel floor rest the heart & internal organs of this unfortunate - but highly important – royal lady.
If the dice had rolled differently Lady Katherine Grey could well have been crowned Queen of England & her illegitimate cousin Elizabeth Tudor banished to provincial obscurity.