Horners
The village shop has a long history. George Horner already owned a drapers (now Blythburgh House, Mains Restaurant) and a chemists business (since demolished and a new house built, next to Manor House) in the village when he took over the grocers in 1907. There had been a shop on the site since the late 17th century. The present shop and warehouse were built by Sir Charles Blois of Cockfield Hall in the mid-19th century, the original building having pinnacles to imitate those at the Hall. There were various tenants of the shop before George, including Alfred Phillips 1891-1906.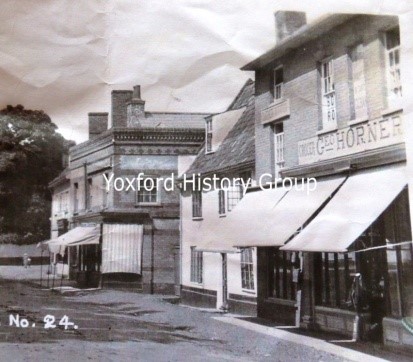 After the First World War the population of Yoxford had diminished but there was a rise in wages and people's spending power had increased. By 1918 things were looking up for George, the business had become 'George Horner & Son' when his son Percy joined the business and he had opened branches in Kelsale, Peasenhall and Middleton. Horners became a Limited Company in 1922. Percy continued to increase trade and in the 1930s set up a delivery service within a ten-mile radius using a Rolls Royce van attracting public attention. He introduced Own Brand Lines including Sunset Tea and Clover Leaf Margarine. Everything bought was weighed and packed on the premises. In 1932 light, heat and power was added to the shops.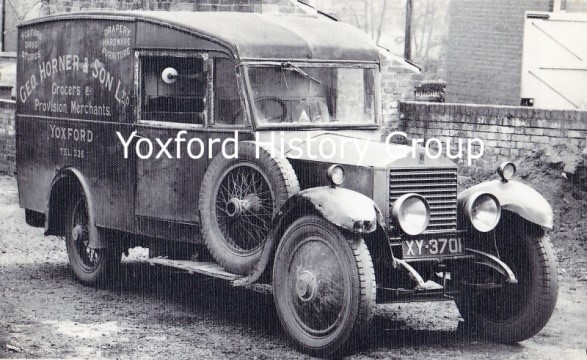 He diversified upstairs selling small household items such as tables, chairs and three-piece suites. In the Second World War many men were called up so Percy employed mostly women part-time workers.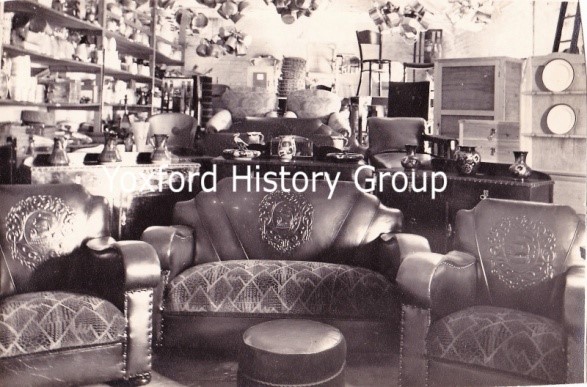 George's grandson Jack started working in the shop when he was 15 and took over the business in 1947. Later he vividly remembered the ration books and every delivery starting with the same order 'sugar, butter, marg, lard, bacon, cheese, tea and eggs'. Slab cakes and meat pies were not rationed and they were kept aside for registered customers as they were so popular people used to fight over them. Jack bought the shop in 1951 and his brother Billy became a Director.
Jack had the shop refitted in the 1960s helping to increase turnover. In the 1970s, due to the increase in staff wages and longer holidays, Jack had to close his Peasenhall and Middleton branch, leasing out his shop in Kelsale to a Mr. S. F. Lawes. The Yoxford branch managed to stay open and Jack and his wife Pat were selling local produce and home cooked hams. They became licensed in 1979. In 1985 their son David joined the firm and introduced seven-day trading. When Jack retired in 1994, a retirement party was held in the village hall on Sunday 5th June.
David expressed a wish not to continue in the business and the premises were let to Sparrows of Laxfield, who were still operating the business in 2000. The lease was sold in 2005 and the shop was run as a Londis store.
It continued to be leased until shortly before Jack's death in 2017. The shop was then bought by Jon Hunt, owner of Cockfield Hall and it continues to be leased as a Grocery/Newsagent/Off Licence, at present run by Ravi Kumar and his family. The business still trades under the name 'Horner's'.
Employees included Bill Brown, Mary Warner, Margaret Howlett over 20 years; Jean Chapman over 30 years.