Other Shops Part 4
HAIRDRESSERS NEXT TO GARDEN HOUSE
Francis (Frank) James Clarke, ladies and gents hairdresser, came to Yoxford between 1900 and 1916. Men's haircuts cost 3d in the 1920s (around 50p). Frank and his son Dudley, barber, (b 1900) worked together until Frank died in 1933 aged 61. Dudley continued the business on his own for a while; appearing in Kelly's Directory for 1937. He died in 1974.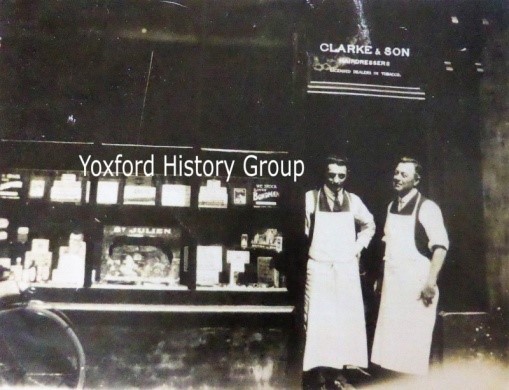 Jock Goldie was the next proprietor, working as a barber, until he retired around 1980. Another man continued for about three years, until Maureen Martin-Wiles took over the business as a unisex salon from about April 1984. (Jock told her that he had been there 40 years). She named the business Snips and it continues to this day, though now on a part-time basis as
Maureen is semi-retired. Jock also told her that the shop front had originally come from a shop in Leiston.
THE OLD BUTCHERS SHOP (Chapmans Butchers)
William Chapman 1900, 1916, 1925. His son Henry J (Harry) 1937. By the 1950s this was the Co-op butchers
Montgomery's Cycle repairs (now Wayside)
From at least the 1920s. The building burnt down circa 1930.