Suffolk House
The building was given the name by William Short, grocer, draper and wine merchant. He was a very successful businessman and sold the goodwill for twice the price he paid for it. He was born in 1843 the son of William Short of Sibton & his wife Esther. He entered into partnership with Mrs Mary Baldry, widow of the former proprietor soon after 1870. She died in 1904. He married the widow of A W Smith the chemist. It was a small business in the sense that he had no horse, only a boy with a handcart so trade was confined to the village. The original shop was the west end only, with a higher parapet.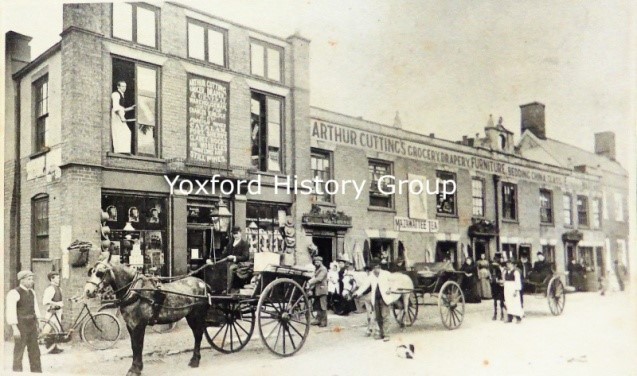 The remainder was once three dwellings. Short added the first of these to his shop, the second was then a dealer in antiques, the third a saddler. His successor Arthur Cutting extended his business to all three and introduced modern shop windows. He had a drapers, grocers and furniture dealing business here from just after 1891 until just before 1911. He and his wife and two daughters lived at Rosslyn House. Arthur was born in 1855 in Pettaugh, Suffolk, did his grocer's apprenticeship in Debenham then was an assistant in Paddington, London at the age of 25. Ten years later in 1891 he was a grocer, draper and earthenware dealer in the High Street in Hadleigh, Suffolk. He married Elizabeth Garrod, his milliner and draper's assistant and they moved to Yoxford.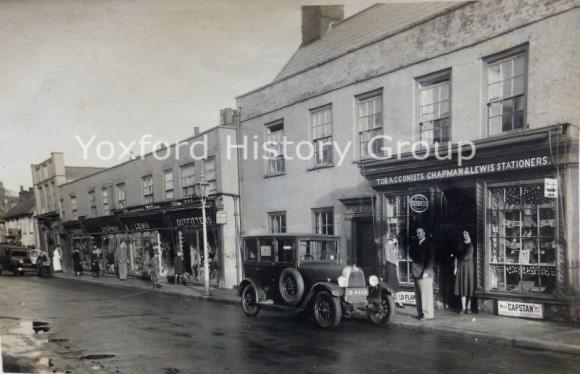 Cutting retired to Manningtree owing to ill-health before 1913, but still owned the property, letting it to Charles French c1909, and he continued for 20 years. The saddler was William Row, who died in 1838, his son George Howlett Row continuing the business. His wife Mary Ann was a milliner according to White's 1855 Directory. George's assistant was John Reeve Cotton, the son of James Cotton, coachmaker. In 1859 John married Emma Dalby. In 1882 Row retired and his earlier apprentice Salmon Howard continued until Cutting's shop absorbed his and he moved to the other side of the road. Herbert Chapman succeeded French, acquired the house (Yoxholme, now Craig House) and the bookselling business. He let the house and made the business his tobacco and stationery department. The garden extends behind Barnsdale.
When he retired his son John took over, until 1949.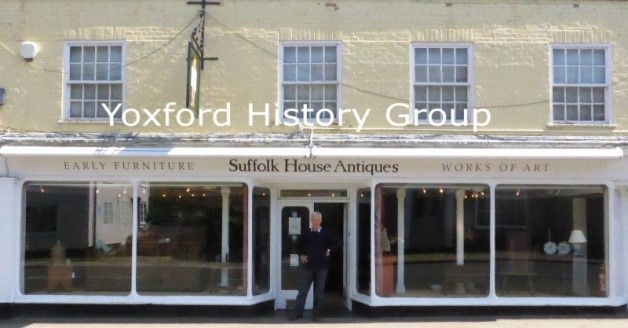 Next Mr Tew
By 1996 the building housed two shops - Suffolk House Antiques (Andrew Singleton) – from 1991; Post Office & Health Food Shop (Mr Barclett). Craig House was by then a private residence