Yoxford
Village Hall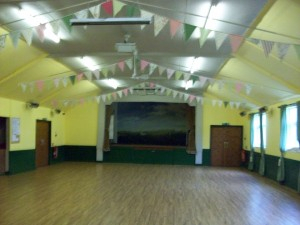 The Village Hall is on the Old High Road, Yoxford, IP17 3HN. It hosts many activities including many of the clubs found on the 'Clubs & Organisations' page.
The Village Hall has a small hall with its own kitchen and a large hall with a larger and better equipped kitchen, bar area and a stage. The large hall is licenced for 210 persons (dancing only), or 145 persons if you have dancing and tables. We also have two party tents for hire. The Village Hall also has wifi. To hire the hall please email [email protected] using the appropriate booking form attached below.
The village hall hosts 3 markets/car boots a year, on the second Saturday of each month. We are seeking a variety of new stall holders. For example, if you have bric a brac to sell outside at car boot, inside , maybe you have a craft and have made items to sell or perhaps you love cooking and would like to sell your produce. If you are interested call Janet 07557 286286 or email:[email protected]
The Outreach Post Office is now up and running in the Village Hall twice a week: Monday 09:30 -12:00 & Wednesday 09:30-12:00 tea and coffee and cake will be available so come along and support the post office and the village hall and meet friends over a cuppa.
Services Run by The Outreach Post Office include:
Bank Deposits – Cash Withdrawals – Postal Services – Stamps – Fishing Licenses – Phone Top-Ups – Euros/Foreign Cash – National Express Bus/Coach Tickets. Meals on Wheels.
Below is the Village Hall timetable for permanent recurring events. Please check the events page for other activities in the hall and elsewhere in and around the village.
Here is a list of Fund Raising Events for 2019:
Saturday March 23rd Pop Up Coffee Morning- 10.30 - 12.00 Coffee/Tea and a variety of delicious homemade cakes and home baked food stall. Come along an meet friends.
Saturday April 13th Yox Rox - Disco and buffet, bring your own drinks, tickets £10.00 each purchase from Hazell Wheeler 01728 668002.cancelled.
Saturday April 13th Two Charities Easter Coffee morning, from 11am stalls, refreshments, Easter Egg Hunt.
Saturday May 11th Breakfast-Car Boot-Craft and Cakes 10 - 1 Crafts in large hall, car boot on the green, Cost £7 per table /car £12 for two tables/vans, need to book limited space. Contact Janet 07557 286286. Also same day in the small hall we will be having a History Exhibition called: "Schooldays & Health" time 10-4 so lots to see on this day. Then in the evening we will be having
a "QUIZ NIGHT" teams of 8(if you do not have 8 people, you can join others) from 7pm £10 entry per person, includes two course supper. Bring your own drink. Contact Sheena to book 07973 863034
Saturday 25th May Pop Up Coffee Shop 10.30-1200 Coffee/Tea and a variety of delicious home made cakes. Then in the afternoon, of Saturday 25th May "Bargains Galore" clothes, shoes, bags, bric a brac and more,. 2pm - 4pm entry 50p
Saturday 22nd June Pop Up Coffee Shop 10.30-1200 Coffee/Tea and variety of home made cakes.
Saturday 29th June British Legion Table Top Sale 9.30-2pm refreshments available
Saturday 13th July Breakfast, Car Boot ad Crafts 10-1 - small hall taster sessions of table tennis, no cost.
To book a stall or car boot contact Janet 07557 286286
Saturday 20th July Two Charities Summer Fete
Saturday 27th July Pop Up Coffee Shop 10.30-1200 Coffee/Tea and variety of home made cakes.
Saturday 11th August Breakfast Car Boot and Crafts 10-1 small hall taster session of indoor Kurling taster sessions, no cost.
Saturday 24th August Pop Up Coffee Shop 10.30-12.00 Coffee/Tea and variety of home made cakes
Saturday 31st August British Legion Table Top Sale 9.30 - 2pm.
Sunday 1st September Produce Show
Saturday 14th September Celebration of Classic Cars at Yoxford, afternoon tea, craft stall, games 2pm-4pm
Saturday 28th September Pop Up Coffee Shop 10.30 - 12.00 Coffee/Tea and variety of home made cakes
Saturday 5th October Jumble Sale 10 - 1 tea coffee home made cake free entry
Saturday 26th October British Legion Table Top Sale 9.30 - 2pm
Saturday 9th November Jumble Sale- Mini Market - Breakfast - 10am-1pm
Saturday 14th December Christmas Market 11am - 2pm
Over 25 stalls, crafts, christmas gifts, cakes, savouries and much more, plus home made soup and bread, mulled wine and mince pies
In aid of village hall refurbishment
PLEASE SUPPORT YOUR VILLAGE HALL - HELP IS ALWAYS WELCOMED - IF YOU CAN HELP WITH ANY OF THE EVENTS OR WOULD LIKE TO JOIN OUR TEAM OF FUND RAISERS, PLEASE CONTACT JANET TIBBIT 07557 286286
The Village Timetable is below:
There will be no monthly markets in 2020 watch this space for future events.
Recurrence
Monday
Tuesday
Wednesday
Thursday
Friday
Saturday
Sunday

Every

Post Office

New Age Kurling

Table Tennis

Post Office

Barley Brigg

Gentle Exercise

Carpet Bowls Oct - Mar

1st of month

Parish Council Meeting

Praise & Worship

2nd of month

3rd of month

Village Hall Committee

4th of month

Other

YoxVox every other Monday